News & Updates
Substation Equipment Repaired Northern Chatfield
August 25, 2015, - 1:02 PM - Repairs have been made and power has been restored to the Chatfield substation that serves members north of First Street SE and East of Hwy 52 in northern Chatfield. Members in this area who are still without power should call the Cooperative at (800) 214-2496. We apologize for the inconvenience and appreciate your patience as we made repairs to this vital equipment that was damaged unexpectedly yesterday.
Southern Minnesota Energy Cooperative (SMEC) Acquisition of Alliant Energy Minnesota Service Territory is Final!
July 31, 2015 - The acquisition of Alliant Energy's electric service territory in southern Minnesota by 12 electric cooperatives is final. We are happy to welcome nearly 7,000 new members to PEC! Click here for more information about SMEC and this once-in-a-lifetime opportunity! New Alliant members click here for important information.
August 2015 Highline Newsletter

Click here to access the August Highline Newsletter. August's on-line spot your number is 16803.
Load Control
Click on the appropriate program to view current load control information for Residential Load Control and Commercial-Industrial-Agricultural Load Control.
Area Phone Scam

July 15, 2015 - A PEC member received a call last night from someone claiming to be from the Cooperative threatening to shut off power immediately if the member didn't make a payment over the phone. Please be vigilant and remember that our member service representatives do not request or accept payments over the phone. Phone payments can only be made using an automated system. If you receive a suspicious call, please contact us immediately at (800) 214-2694.
Community Solar Garden Plans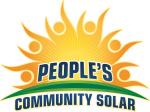 We are in the final planning stages for our community solar garden. Click here for information about the garden and answers to frequently asked questions.
Pole Inspections to be performed by Osmose

Utilities Services
People's Energy Cooperative has hired Osmose Utilities Services, Inc. to complete pole inspections on distribution lines in the eastern portion of our service area. The inspections are planned to begin on June 15 and should take approximately ten weeks to complete. Click here for more details.
Operation Round Up
The next round of Operation Round Up grant applications are due by 4:00 p.m. on Monday, September 21, 2015, to be considered for fourth quarter 2015 grant money. For more details and an application, click here.
Can't find what you're looking for or have a question, contact us.